Latest Wolf-Ferrari – Release
Concerto for Violin and Orchestra D major op.35
Benjamin Schmid, violin
OVIEDO FILARMONIA
Friedrich Haider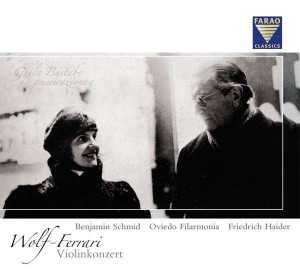 The splendidly edited CD-set also includes a DVD-video documentation giving informations about genesis and mysterious backgrounds of the concerto, composed in the middle of the 2nd World War ("Love Letter to a Violinist"). The 100-page booklet presents an essay and an interview with conductor Friedrich Haider, as well as mostly unpublished photo documents, letters and facsimiles (Ger./Eng.).
The set is being published by
---
Il segreto di Susanna
Judith Howarth, Susanna / Angel Odena, Gil
OVIEDO FILARMONIA
Friedrich Haider
The rediscovery of a masterpiece! 
 
Conductor Friedrich Haider about the overture of this brilliant one act opera: 
"Wolf-Ferrari creates a highly personal musical language that is a thrill of excitement from the very first bars of the overture on – a most magnificent example of Italian comedy – vivacità. In its melodic bliss and mediterranean expression of liberty this overture seems to be in love with life itself, bursts of ingenuity, is moody, cocky and blessed at the same time. A masterstroke!"
From the international press this live recording has been hailed unanimously.
---
Concerto for Violin and Orchestra D major op.35
Guila Bustabo, violin
Münchner Philharmoniker
Rudolf Kempe
Anyone who is interested in the dedicatee and interpreter of the Violin Concerto's world premiere should listen to this unofficial live recording (27 november, 1971) with Guila Bustabo. It was released in a limited edition of 300 pieces only, is hard to find and certainly has it's price. However, Bustabos highly energetic, sometimes gruff access is an experience all of its own. The Munich Philharmonic Orchestra is conducted by Rudolf Kempe.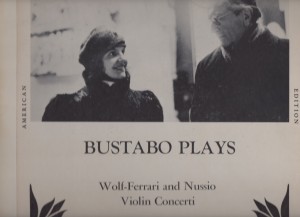 ---
"Invocazione" –
Konzert für Violoncello und Orchester op.31
Sinfonia Brevis op.28
Gustav Rivinius, Violoncello
Radio-Sinfonie-Orchester Frankfurt
Alan Francis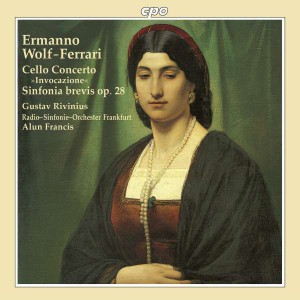 Two works from the composers latest period in the only available recording so far.
---
 The Wind Concertos
Diego Dini Ciacci, Oboe, Englischhorn
Paolo Carlini, Fagott
Orchestra di Padova e del Veneto
Zsolt Hamar
An integral recording of the three wind concertos – for oboe, bassoon and cor anglais – accompanied by strings with two french horns. Melancholy works of the composer's later period in which even brighter or dance-like sections are filled with silent sadness.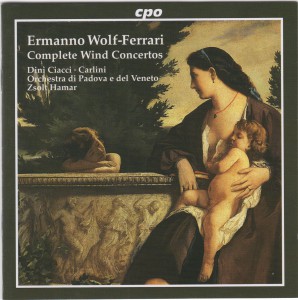 ---
Serenade for string orchestra
I Solisti Veneti
Claudio Scimone
Leaving aside his operas, the "Serenade for Strings" of the 17-years-old Wolf-Ferrari is the most frequently performed work of his oeuvre. This has been reflected in a rather high number of recordings. The one of Claudio Scimone with the "Solisti Veneti" ranks top among approximately 15 other releases on LP or CD. The striking "leggerezza" and transparency of sound, the truly Italian, never sentimental Espressivo and the terrific impetus of the finale – all that is touching and captivating at the same time.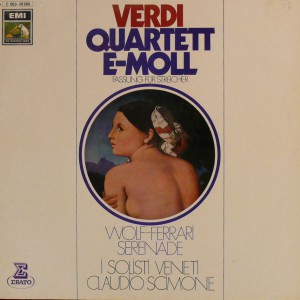 ---
Chamber Symphony in B flat major op.8
MiNensemblet
Neither "serious" chamber music nor big symphonic, but an extraordinarily free, playful, blissfully melodic work, which sometimes seems to draw in the night atmosphere of Piazza San Marco in Venice where small chamber ensembles try to outplay each other with entertaining, virtuosic or serious tunes. A thoroughly happy Ermanno Wolf-Ferrari we meet here, a 25 years old genius on his way to world fame.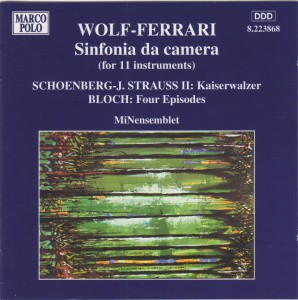 ---
Trios & Duos for string instruments
Deutsches Streichtrio
This is an exemplary chamber music recording at the CPO label by the "German String Trio" (Hans Kalafusz – violin, Jürgen Weber – Viola, Reiner Ginzel – cello) in excellent sound quality. An integral recording of duets and trios for string instruments starting with the B minor trio of 18-year-old Wolf-Ferrari followed by the Duos for Violin and Cello op.33b (adaptation of the viola d'amore – viola da gamba work), the late A minor Trio op.32 (1945 ) and the "Introduzione e Balletto" op.35 for violin and cello. The sensitive playing and clarity of structure deliver a listening experience par excellence!

---
The Piano Trios op.5 & 7
Piano Quintet op.6
Münchner Klaviertrio
Leopolder Quartett
Wolfgang Sawallisch, piano
These highly sensitive musicians from Munich do know about the significant, rhetoric sound of Wolf-Ferrari. Wolfgang Sawallisch, an admirer of the composer, is playing the piano part of the D flat major quintet with unutterable beautiful sound.
 
---
3 Impromptus op 13
6 Bagatelles op. posth.
Horst Göbel, piano
Thorofon / Capella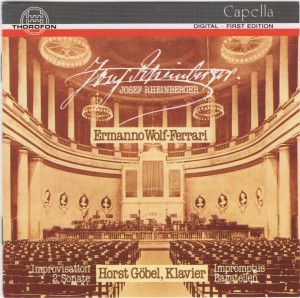 ---
Italian Songbook
Rispetti
Impromptus
Yvi Jänicke, mezzosoprano
Bruno Canino, piano
cpo
 
---
Die neugierigen Frauen (Le donne curiose)
Arlecchino – Benno Kusche
Beatrice – Hetty Plümacher
Colombina – Hanna Clauss
Florindo – Christo Bajew
Leandro – Stefan Schwer
Lelio – Gerhard Hüsch
Ottavio – Walter Hagner
Pantalone – Engelbert Czubok
Rosaura – Margot Guilleaume
Eleonora – Fritzi Göhrum
Chor und Orchester des Stuttgarter Rundfunks
Dirigent: Hans Müller-Kray
Cantus Classics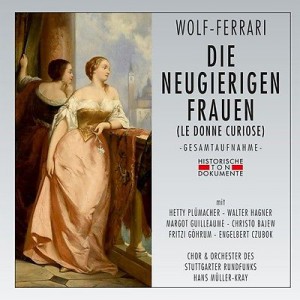 ---
Il Segreto di Susanna
Susanna – Renata Scotto
Gil – Renato Bruson
Philharmonia Orchestra
Conductor: John Pritchard
cbs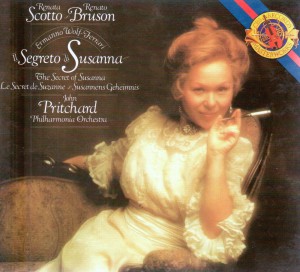 ---
I Quatro Rusteghi
Lunardo – Nicola Rossi-Lemeni
Margarita – Cloe Elmo
Lucieta – Rosanna Carteri
Maurizio – Silvio Maionica
Marina – Ilva Ligabue
Filipeto – Cesare Valletti
Simon – Marco Stefanoni
Canciano – Melchiorre Luise
Felice – Silvana Zanolli
Conte Riccardo Arcolai – Giuseppe Zampieri
Una serva – Luisa Mandelli
Orchestra del Teatro alla Scala
Conductor: Antonino Votto
(Teatro alla Scala, unofficial live recording June 2, 1954)
Front Cetra Dokuments DOC26 (3 LPs)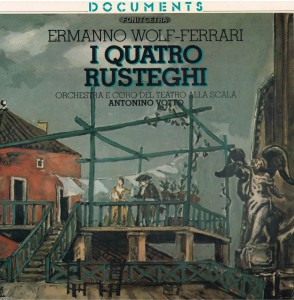 ---
Das Himmelskleid
Die Fürstin Angelina Ruzzafante
Der Prinz Sibrand Basa
Der Kanzler Reinhard Leisenheimer
Fürst Korbinian Stefan Adam
Fürst Gudolin Sergio Gomez
Fürst Fridolin Peer-Martin Sturm
Fürst Pippin Michael Kurz
Die Mondfee Anna Maria Dur
Opernchor Hagen 
Philharmonisches Orchester Hagen
Concuctor: Gerhard Markson
Marco Polo